Residents may use the sauna at any point. Children under 16 years have to be accompanied by an adult over 18 years old. People that are not residents have to be accompanied by a resident.
Price: For 10,- kr, the oven is turned on for 30 min, which is enough heat for one hour.
Instructions
It takes 20-30 min. for the sauna to get hot (~60C).
The oven is turned on when the chip is used on the machine which is placed in the stairway by the common house. The oven automatically turns off after 30 min.
The watch on the left is set to the red "1".
The watch on the right the temperature. VII is the highest.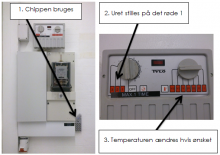 After Use
The benches and the floor have to be cleaned after use. You can use the squeegee found in shower for cleaning. The water bucket has to be turned over in the shower.